With the COVID-19 pandemic of 2020 and still impacting us in 2021, our lives were turned upside down, personally and professionally. A significant percentage of the US workforce shifted from working in a formal company office to working from makeshift table tops and offices at home. At one point over 60% of employees worked remotely at some time during this time frame.
As a small business owner, what is your responsibility and risk regarding workers' comp for your employees that continue to work remotely? If you're like a number of businesses, you may continue to have employees work remotely or split time between formal offices and home offices. Let's take a look at common questions, employer requirements, how it works, coverages and how to reduce the risk of remote worker injuries.
Is Workers' Comp required for remote employees?
YES, most states require coverage if you have one or more employees. Here's what's covered:
Worker job related illness or injury
Medical bills
Lost wages
Disability benefits
Employer's liability insurance if an employee sues you over their injury
Lawyer bills
Court costs
Settlements/judgements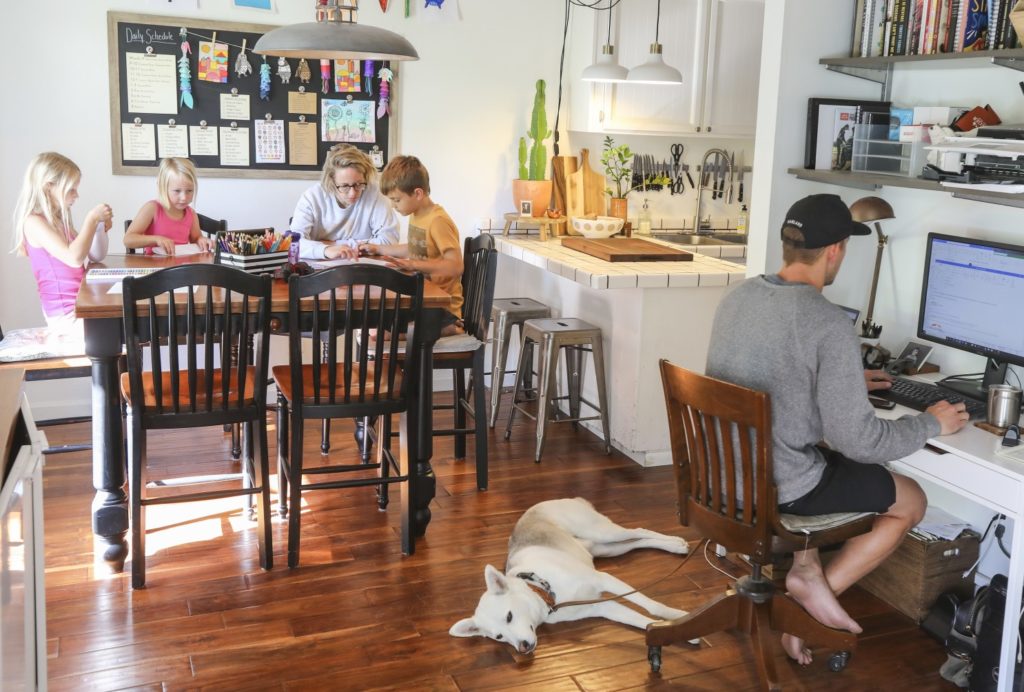 How Does it Work?
Remember, Workers' Comp covers injuries that happen during work-related activities during hours. This can also include hours worked at home. An injury incurred at home related to work activities should be treated the same as an injury incurred in a formal office/workplace setting. Immediate notification by the employee to the appropriate contact, documentation of the incident and submission of the claim to your insurance company should follow pre-established guidelines and procedures.
One of the major challenges is determining if the injury is truly work-related. Just because a remote employee is "on the clock" it is not an automatic work-related injury. Let's consider the following example:
An employee working from home during business hours decides to water their plants in the kitchen as they are making a cup of tea. During the watering process, they spill some water on the kitchen floor and do not mop it up immediately. An hour later they go back into the kitchen to make another cup of tea. Walking by their plants on the way to the microwave, they slip and fall in the water left on the floor, injuring their back. This would not be considered a viable Workers' Comp claim. The injury was a result of personal negligence on the part of the employee for not moping up the water spilled on her floor while watering her plants.
So, as we can see from this example, the rules are not always black and white. In a case like this, promptly filing a claim with your insurance company with a detailed report regarding the incident will trigger your insurance company to begin the investigation process. Once this process starts, your participation is limited and allows you to focus on running you business, not dealing with the claim.
The most proactive thing you can do as an employer is to reduce the risk factors associated with remote workers.
What Is a Telecommuting Policy?
This policy can easily follow your existing in-office policy with some slight modifications
Define the employees work duties
Establish guidelines regarding virtual communication, virtual meetings and status updates
If your employees normally clock in and out, there are numerous online apps that available to help you and your employee track hours easily
Establish Home Office Guidelines
The attraction to working remotely for employees is the freedom to work is only limited by Internet access. For an employer, this can present unexpected challenges with some employees maintaining acceptable productivity levels. Consider asking you employee to sign a remote work agreement outlining expectations. Here are some ideas:
Compliance with all Company Policies
Establish a distraction-free workspace at home

Desk, chair and noise free environment
Good lighting for video meetings
Taking care of company provide work tools like computers, monitors, phone & headsets

Agree to a consistent schedule of availability during "work hours"
Review a Home Safety Checklist
Just like your formal business office space, an employee should have a safe work environment. This checklist could also serve as a good reminder for the employee to check the overall safety of their home in case of an emergency. You can include things like:
Safe electrical outlets, cords and surge protected power strips for all the electrical equipment need to perform job responsibilities
Certified fire extinguisher
Know where water cut-off valves are located
Know where the electric panel is in the house
First-Aid kit readily available
Emergency contact numbers readily available
Flashlights and candles in case of a power outage
Backup power charges for cell phones
Have A Cyber Security Program
Last, but certainly no least is a cybersecurity program. With employees connecting from various internet connections and routers, there is a definite risk of outsiders hacking into you computer systems. What can you do to minimize that risk?
Only allow employees to use company issued devices with antivirus software
Provide regular training to identify and avoid common threats like phishing and suspicious emails
Use a VPN (virtual private network) connection on remote devices to protect your company's systems and servers.
Purchase Cyber liability insurance to cover expenses related to being hacked
While all that we covered is not a comprehensive list of action steps to take in facilitating a safe work environment for both the employee and employer, this is a good starting point. By identifying and outlining guidelines for these potential areas of concern, you can provide peace of mind for your employee and your business.
Happy telecommuting!!
More Important Insurance Blogs

Optional Boat Insurance Coverages That Protect Your Mobile Equipment, Offer On Water Towing, Gap Insurance For Your Boat, and Help You To Avert Other Disasters
Want To Buy A Boat? What To Consider
Protect Your Boat and Avoid Surprise Expenses with These Top 7 Boat Insurance Coverages
The Real Cost of Distracted Driving – Crashes, Injuries and Deaths
6 Reasons To Avoid State Minimums On Your Auto Insurance
What is an Independent Insurance Broker?
Fire Pit Safety – Things You Should Know Before Igniting an Outdoor Fire Pit
5 Rules Every Landlord Should Live By
Will My Credit Rating Change My Insurance Rates?
Why Do My Auto Insurance Rates Keep Going Up Even Though My Car Keeps Getting Older?
Need A Construction Bond? Here Is What You Need To Know First!